Route & Service Information
Click a link below to open a route map with schedules.
Route 11 – West Salem
Route 22 – Grand Ronde
Saturday Service Suspended Until Further Notice
All YC Transit information is available in alternate and accessible formats upon request.
Translation / Accessible Alternate formats: 503-474-4900
Central Translation: 1-800-CALL-CLI
Text-to-Voice (TTY) Relay: 711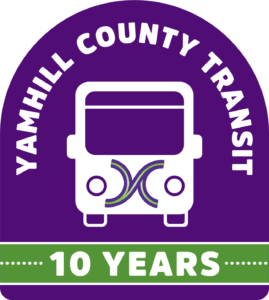 2012-2022 Yamhill County Transit is celebrating ten years of service, building on a long history of transportation innovation in Yamhill County.
Since the 1880's transportation has played a critical role in the local economy and improving the quality of people's lives. The exciting history of transportation in Yamhill County from steamboats to ferries, to the 109-mile Southern Pacific Red Electric rail line called the Yamhill Loop to the more traditional public transit services that began in the 1970's has built a strong foundation for transit today.
In 2007, the transit district was formed. In 2012 Yamhill County Transit with Transdev as its contract service provider began providing public transportation services. Yamhill County Transit services include demand response, local fixed routes in McMinnville and Newberg and commuter services to West Salem, Grand Ronde, Hillsboro, and Tigard.
Watch for future 10th anniversary announcements and activities and please join the Celebration!
How to Ride a Local or Commuter Bus
Arrive at the stop at least 5 minutes early.

Be ready to board with exact change or a valid transit pass

As the bus approaches, wave to the driver to let him or her know that you wish to board.

Stand back from the curb and wait until the bus comes to a complete stop. If you need assistance with the ramp or bike rack, just ask the driver to help.

Step onto the bus and pay your fare. Once you've paid, move towards the back to find a seat.

Along the route, the driver will announce each stop. When you hear your stop announced, let the driver know this is your stop.

Once the bus has stopped, collect your personal items and leave the bus through the back exit door.

Riders are expected to adhere to the safe ride rules and regulations at all times.

This includes maintaining a reasonable voice level and keeping all beverages in closed containers.