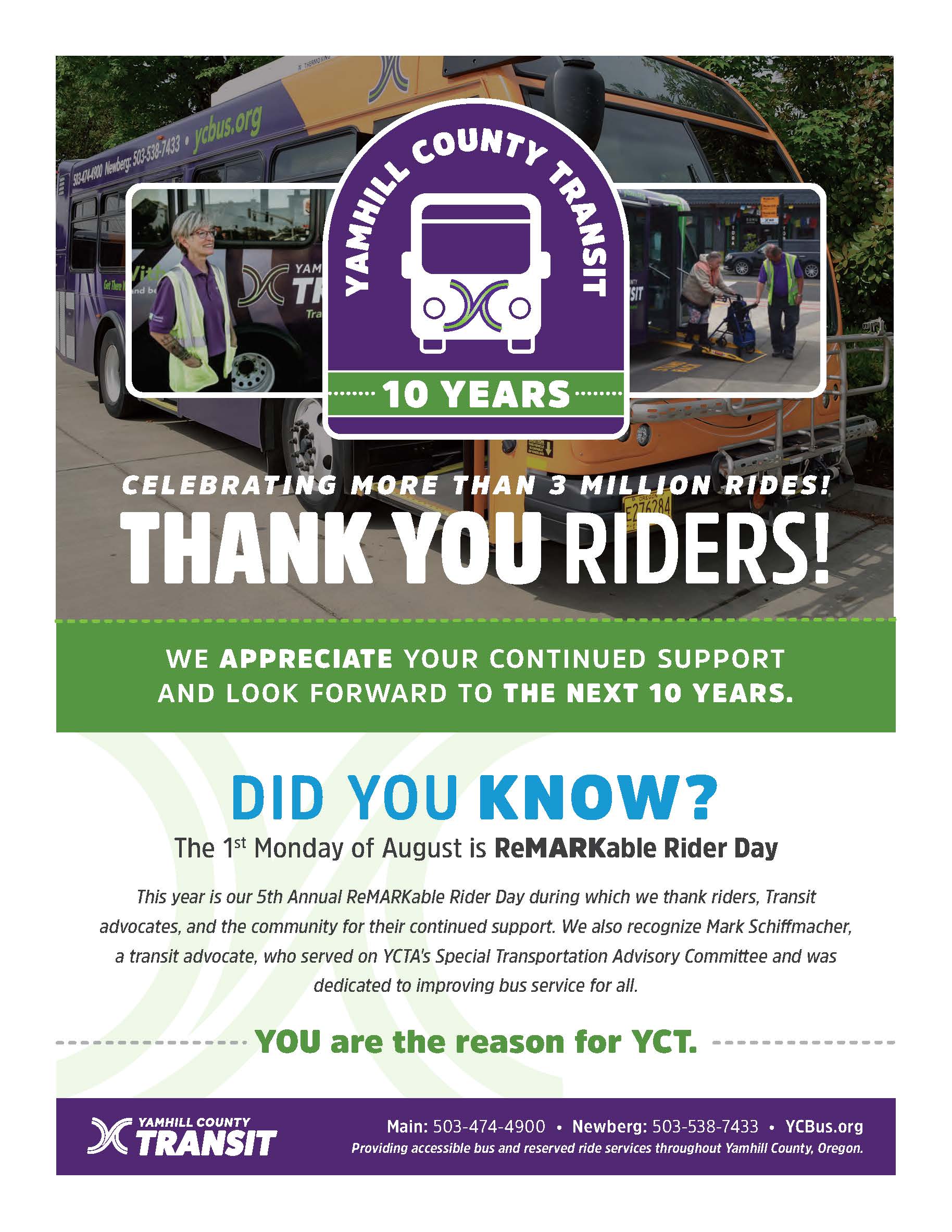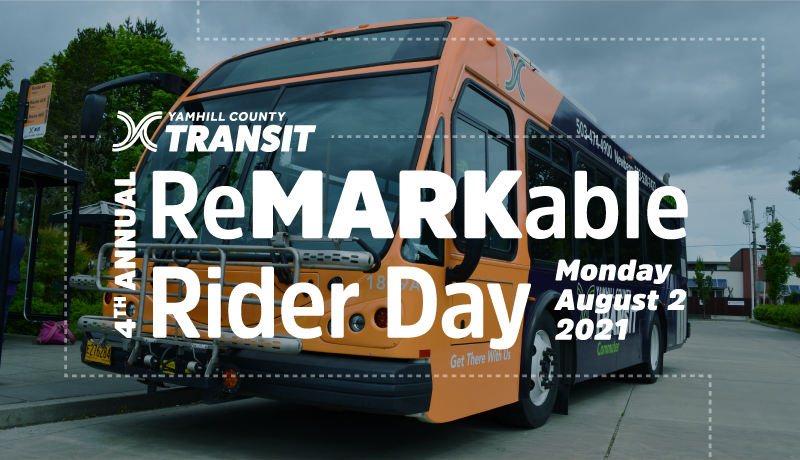 It's a NEW ReMARKable Numbers list!
New numbers have been drawn as prizes from the first drawing were unclaimed.  If your drawing number is listed below, email info@YCBus.org or bring your winning ticket to the Transit Center to pick up your prize – by Monday, August 23, 2021!
#137 – Annual RRD Bus Pass
#327 – $50 WinCo GC
#469 – $20 Starbuck GC
Thanks to everyone who joined us to celebrate!
LET'S CELEBRATE 2 MILLION RIDES!
Monday, August 2, 2021
Yamhill County Transit Center
800 NE Second Street, McMinnville

10 am – 3 pm
Tour a new state-of-the-art bus and view the new bus stop signs
All guests receive a YCT swag bag!
12 pm
Opening Remarks
 Mary Starrett, County Commissioner and YCT Board of Directors Chair

Service Recognition Awards
presented by Casey Kulla, Yamhill County Commissioner and YCT Liaison

New Bus and Bus Stop Signs
Cynthia Thompson, Transit Manager
EVERYONE IS WELCOME
In each YCT  guest swag bag is a numbered ticket. Four numbers will be randomly selected for the following prizes:
Annual RRD Bus Pass (free rides all year)
$75  WinCo Foods Gift Card
$50 WinCO Foods Gift Card
$20 Starbucks Gift Card
Check back for the ReMARKable Numbers List!
About ReMARKable Rider Day
This special day is designed to focus attention and show our gratitude to YCT's amazing customers and to recognize the dedicated transit advocates who volunteer their time to support Yamhill County Transit. It is named for Mark Schiffmacher, a transit advocate who served on YCT's Special Transportation Advisory Committee and was dedicated to improving bus service for all.
"This event is about thanking our riders! On Monday, August 2nd all riders will receive a "gratitude gift" bag from YCT that includes a ticket for raffle prizes to be announced on our website at YCBus.org.

We strive to thank the riders on an ongoing basis by providing excellent customer service, continually improving our fleet, and enhancing our services.

Our goal is to create a reliable, comfortable and hopefully pleasant option for those with limited transportation choices and for those who have other options but choose to ride public transportation." says Renee Guerrero, General Manager, First Transit.
This 2,000,000 million ride milestone shines a light on the need for quality public transportation services in Yamhill County. The transit system provides access and mobility to residents of all ages and abilities so they can access life-sustaining services, get to work, school, medical appointments, or social activities.
Additional YCT Initiatives & Accomplishments
"We have so much to be proud of as we celebrate the fourth annual ReMARKable Rider Day. Yes, we crossed a major milestone with 2 million rides on our buses.

But more importantly, these rides made it possible for many residents to seek employment, get to work, seek medical care, or visit a friend in need. Public Transportation is a lifeline to many in our County.

The new buses and new bus stop signs will make it even easier for riders to access the services they need," says Cynthia Thompson, Transit Manager, Yamhill County Transit
YCT's efforts include:
The adoption of a long-term Transit Development Plan providing a blueprint for the future.
Yamhill County Transit recently transformed its look with updated graphics on all the buses and new and improved route and schedule brochures and customer information materials creating a more accessible and user-friendly experience.
YCT modified and expanded services and procured new buses making major improvements to its entire fleet. These improvements were supported by a new funding source through the State of Oregon called the State Transportation Improvement Fund (STIF)
YCT added state-of-the-art technology enhancements to the buses and tools for dispatch and riders to provide real time route and schedule information for customers while creating efficiency improvements for the entire operation.